We hear these names a lot, but we don't always know the difference between them. Is one stronger? Is one considered better? When it comes to delta 8 vs delta 10, they are both new ways to get high and access cannabis benefits, but come with a couple important differences. Read on to find out more.
---
Delta 8 vs delta 10 – What are they?
So, what are these names which have been popping up in corner stores all across America in the last few years, and causing much debate in many states and the federal government over legality issues? Both are considered cannabis cannabinoids, and fit into the cannabinoids market, along with other compounds like HHC, THCO, and CBN. However, this doesn't mean that they're both directly extracted from the plant.
Delta 8 can actually be directly extracted from the cannabis plant, because it's a compound that exists within it. The problem, is that unlike delta 9 and CBD – the two most prevalent cannabinoids, delta 8 shows up in such tiny amounts, that direct extraction in the amount necessary for product production, isn't possible. Though it is naturally occurring, when we use it in products, we're using a synthesized form of it, made from CBD or THC (it must come from hemp to at least be somewhat Farm Bill compliant).
On the other side, delta 10 doesn't occur naturally in the cannabis plant. It's just not a part of it. The reason we know about it is because it was found by mistake back in 1980. At that time, the California company Fusion Farms was making concentrates, while also dealing with the natural disaster of wildfires in the area. As it happened, when their outdoor supply was contaminated with flame retardant chemicals, the workers began finding crystals of an unfamiliar nature in their product. The crystals were studied and found to be a slightly different compound than standard delta 9.
The difference is a minor one. The same minor different for all delta THCs. Delta 8, delta 9, and delta 10 are all identical except for the placement of a double bond. For delta 8 its on the 8th carbon atom, for delta 9 it on the 9th, and for delta 10 its on the 10th. When looking at delta 7, same concept, the double bond is on the 7th carbon atom. All of these delta compounds, regardless of where the double bond is, have the same chemical formula of: C₂₁H₃₀O₂.
Delta 8 vs delta 10 similarities and differences
These delta THCs are all isomers of each other, which means they have the same chemical formula, with just that one alternation in chemical structure regarding the placement of the double bond. They are also analogues of one-another because they are so closely related structurally and functionally, meaning they have nearly identical medical profiles attached. The general consensus seems to be that they feel about the same, and therefore may possibly be used interchangeably for many medical issues.
One of the main things to understand about these compounds, especially when looking at the differences between them, is that even now, we still don't know much. This is because there's still very little official research. When it comes to the effects of delta 8 vs delta 10, nothing online indicates any big difference, yet no study confirms this. The only real evidence is opinions on message boards, and the grand majority show users ultimately have the same experience with both. There are no formal studies of comparison, so those opinions are the best we've got. When it comes to delta 10, the research is generally lacking in all categories.
However, delta 8 actually was studied back in the 1900's, as it was synthesized for the first time when delta 9 was, in the 1960s. By Raphael Mechoulam. At that time, a few things were indicated about it, but without any real follow-up. Beyond the fact it showed useful for cancer, both in fighting the disease, as well as the symptoms like nausea and vomiting (all of which were ignored for decades), there were a few other possible attributes to the compound.
It's often quoted from research from that time period, that delta 8 is about 2/3 the potency of delta 9, and that it provides a clearer headed high, with less anxiety, and more energy. However, none of this was further proven, and the idea that it might be slightly weaker simply means a person would need to ingest more to reach the same high, not that they can't. It also could be that only one strain was studied, and that this might not be true of all delta 8 samples. We just don't know.
When it comes to delta 10, there isn't much to go on at all. Personal experience seems to be the only indicator, and in terms of my own, I've never felt any difference between any of these compounds. At least not more than expected for using different strains, and with different terpene profiles. Though you might find opinions here or there that state (or restate) originally mentioned ideas of one being stronger than the other, or providing a specific benefit, that seems to be more about the hype that occurs when something new enters the market, and nothing more.
One of the issues that delta 10 presents when looking at delta 8 vs delta 10, is that though they are both formulated synthetically, delta 10 comes with the detraction that it requires a catalyst, which in the first place was flame retardant chemicals. I have yet to see a site selling this product that explains a clean way of making it, which means its quite possible that most or all batches are synthesized with dangerous materials.
Delta 8 vs delta 10 legalities
This part gets a bit tricky in some ways, but is more clear cut in others. Both delta 8 and delta 10 are sold in the cannabinoid gray/black market, under the line of legality via the 2018 US Farm Bill. Now, that bill did legalize the cultivation and use of industrial hemp, but it put a very strict definition on the term 'hemp', which goes like this:
"…the plant Cannabis Sativa L. and any part of that plant, including the seeds thereof and all derivatives, extracts, cannabinoids, isomers, acids, salts, and salts of isomers, whether growing or not, with a delta-9 tetrahydrocannabinol concentration of not more than 0.3 percent on a dry weight basis."
What it doesn't allow into the definition, is any amount of synthetic processing. So even if the delta 8 and delta 10 you buy came from component parts of the hemp plant, their synthetization would no longer fit under this definition of hemp if any other non-cannabis component was used. This was confirmed in September 2021, when a letter was sent by the DEA to Donna C. Yeatman, R.Ph., the executive secretary of Alabama's Board of Pharmacy.
It went through different aspects of hemp law, including this statement: "Thus, D8-THC synthetically produced from non-cannabis materials is controlled under the CSA as a "tetrahydrocannabinol." As in, once it involves anything not from the cannabis plant, like a catalyst, its no longer regulated as hemp, but goes back to regulation as a tetrahydrocannabinol in the Controlled Substance list, meaning being treated as a Schedule I substance.
The thing is, whether something is technically legal or not, is sometimes less important (in terms of ability for sale) then the simple idea of whether anyone will do anything about it. In the case of the cannabinoid market, and the already losing drug war against cannabis, it seems going after this market isn't easy to do. Thus, allowing it to fit into what I like to call the no-one-will-do-anything-about-it loophole. True legal loophole? No. Loophole that works nonetheless? Yes!
Truth is, its not even for me to sit and say what the final answer on legality is. The fact that there's a debate at all means there isn't a legal consensus, or at least, not one being enforced. Different states have taken different measures on their own in legalizing or banning delta 8 and other cannabinoids, but this remains inconsistent between locations across the country.
Some Products to Choose From
Interested in trying Delta 8 or Delta 10 products for yourself? Well we have some great deals for you to choose from below. Check them out and act while supplies last!
---
Thanks for hanging out with us. Stay updated by signing up for the Cannadelics Weekly Newsletter, and get first place access to deals on swag like weed flowers, vapes, edibles, smoking devices, cannabinoid compounds, and tons more. Pick wisely and enjoy responsibly!
---
Premium Delta 8 Vape Carts – Only $16 Per Cart!
(Using "delta25" coupon code)
The best way to get stocked up on Delta 8 THC vape carts is by purchasing one of these bundles! For only $16 each, you can get 6 vape carts, each one in a different delicious flavor: Lemon haze (sativa), gelato (hybrid), strawberry lemonade (sativa) blue dream (sativa), mango kush (indica), and granddaddy purp (indica).
TIP: Use the "Delta25" coupon code and select the 6-pack to get each cart for only $16!
Click here to stock up on Delta 8 THC carts
(Using "Delta25" coupon code)
---
Infused Delta 8 THC "Cosmic" Rice Krispies Treats!
(Use "Delta30" coupon code to save)
Delicious and potent! 100mg 'cosmic krispies' fruit cereal bars. Only $8.39 each when using our coupon code. This is the perfect opportunity to stock up while the prices are low! 
TIP: Use the 'delta30' coupon code to get 30% of the listed price!
Click here to save on infused cosmic krispies
(With "delta30" coupon code)
---
VIBIN' Delta-10 THC Tincture
(Save with "Delta25" coupon code)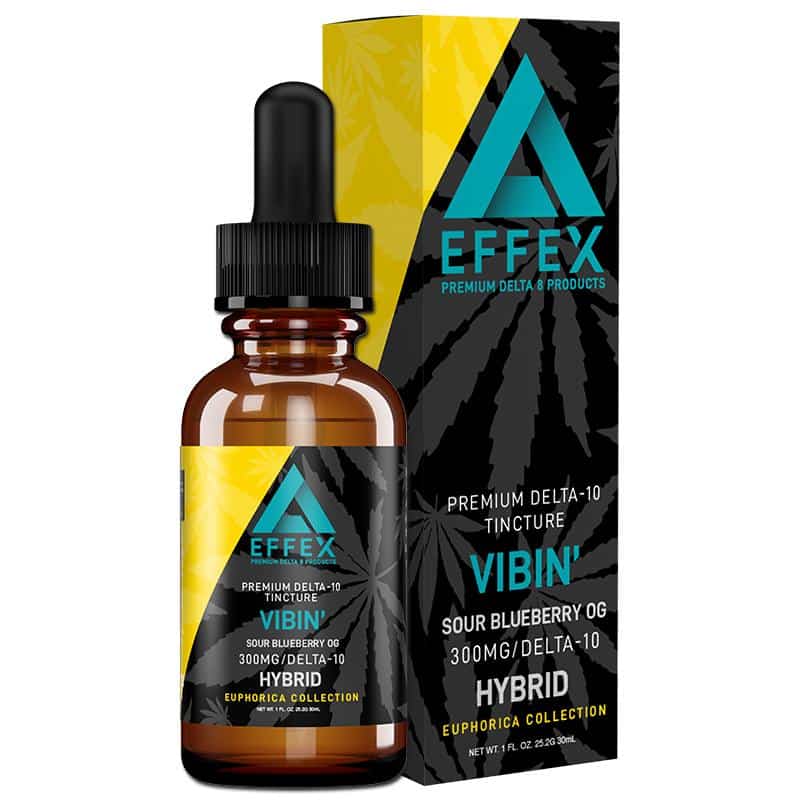 With 300mg Delta 10 and 700mg Delta 8 in every bottle, this best-selling product will let you experience the unique benefits of Delta 10 THC, softly blended with Delta 8, which we all know to love. If you are looking for a 'mental euphoria' and wish to feel 'happy and motivated' this product might be the one for you!
TIP: Get it for as-low-as $25/bottle, when buying the 3-pack bundle and using the Delta25 coupon for an additional 25% discount.
Click HERE to buy Delta-10 THC Tinctures
(With "Delta25" coupon code)
---
Conclusion
If you're trying to make a decision between delta 8 vs delta 10, the first thing to realize is that they're not functionally different in terms of how you'll feel, and I can say that having tried plenty of both. What does affect the experience, is all those other terpenes and cannabinoids involved. This is the same when dealing with delta 9 as well. Think of how much difference there is between indica and sativa strains, and that's just delta 9. Delta 8 and 10 have all those same variations as well.
Any product you buy with either of these compounds is going to have undergone some amount of processing. Whereas creating delta 8 is not necessarily associated with dangerous catalysts, not as much has been put out about safe ways to make delta 10, and this could be one of the things that separates them most. If you're looking for a cleaner product, it might be safer to go with delta 8. Is that for sure? Well, in a completely unregulated industry, the answer is unfortunately, no. As with delta 9 however, both compounds seem to be perfectly safe, though this doesn't necessarily account for processing techniques.
Hello and welcome all!! We appreciate you stopping by Cannadelics.com; a top notch independent news site bringing you the best in cannabis and psychedelics reporting. Check us out regularly to keep updated on everything going on, and sign up for the Cannadelics Weekly Newsletter, to ensure you never miss an important story.
Related