Sleep is a most common problem
Sleep problems are more common than you might think, with roughly one in three Americans not getting enough sleep each night. However, if you look at the chart below, you can see just how positively CBD is able to impact people's sleeping patterns, so if you're suffering from sleep problems, then why not give CBD a try to see if it can help you too?. 
Gummies are, without a doubt, one of the most enjoyable ways to enjoy CBD, so we decided to find out which brands had the best CBD gummies for sleep in 2022. We tested over 20 sleep gummies in order to narrow them down to our finalists here, so keep reading to find the best CBD sleep gummies available this year.
The best CBD gummies for sleep 2022
FabCBD PM Chews
Oregon Originals Sleep Gummies 
Green Unicorn Farms Sleep Gummies
MedTerra Deep Sleep Gummies
Arete Hemp Dream Gummies 
Binoid's Delta 8 THC Gummies
I've been writing about CBD for around seven years now (longer than it's been legal), but sleep gummies have only really taken off in the last couple of years. However, in the last two or three years, I've tried more CBD sleep products than you can shake a stick at. 
The CBD market is unregulated, so not all CBD products are created equally. Not only are some brands much more effective than others, but I'm sorry to say that I've even come across products that don't seem to do anything at all. Hopefully, my list will prevent you from having to waste your time or money on products that don't work!
This year alone I've tested over 20 different CBD brands to find the best sleep gummies for 2022. Some of the gummies I tried contained  CBD as their only active ingredient, whereas others had various added ingredients to enhance the sleepy effects, from melatonin and CBN, to ashwagandha, GABA, and THC.
Cannabinoids often affect each one of us differently, so what works best for me may not be the very best option for you. This is why I recruited a panel of three testers to test each product with me. I encourage you to try a couple of different brands to see which work the best for you before setting up a subscription for your favorite.
1. FabCBD PM Chews
✅  750mg of CBD ($0.12 per mg)
✅  60 servings – $1.48 per serving
✅  Each serving contains 12.5mg of CBD, plus L-Theanine, 5-HTP, Melatonin, Ashwagandha and GABA
Pros
Versatile, lower potency (you can take one or two)
Also contain L-Theanine, 5-HTP, Melatonin, Ashwagandha and GABA
All-natural ingredients (no artificial flavors, colors, or sweeteners)
Comprehensive third-party testing for potency and purity 
Vegan-friendly
30-day money-back guarantee (easy returns)
Cons
Only one flavor option (acai berry)
Have to spend over $99 to qualify for free shipping
Highlights
Fab CBD's sleep formula consists of 12.5mg of broad spectrum CBD combined with a variety of complimentary ancient herbs to promote more restful sleep.
L-Theanine – promotes relaxation without drowsiness
5-HTP – increases melatonin production and improves sleep quality
Ashwagandha – improves sleep quality and sleep onset times
GABA – promotes relaxation in mind and body and helps you sleep more soundly
All of our testers found these gummies to be incredibly effective, performing the most consistently across the board and scoring highly for all sleep measures, including relaxation, falling asleep, sleep quality,  sleep duration, and for having no associated sleep-aid hangover.
Around 45 minutes after taking two gummies, I felt much more relaxed and a warm feeling spread across my entire body, helping to wind me down both physically and mentally. These gummies put me in a really good headspace to drift off to sleep with a smile on my face. They definitely helped me switch off from the day's activities and fall asleep easier than usual. 
They also helped me stay asleep. I woke up less often during the night so, overall, I think these gummies helped improve both my sleep quality and duration. The next morning I didn't even feel like I'd taken a sleep aid. I woke up feeling fresh, well-rested, and ready to start my day.
At first glance, these gummies aren't the cheapest option on the market, but you get 60 gummies (most other products come with only 20 or 30 gummies), so when you take that into account you can see that the price is more than fair. Fab CBD also offers a 30-day money back guarantee, which also means that you can try out the gummies for yourself, risk-free.
Buy Fab CBD's PM Chews
2. Oregon Originals Sleep Gummies
✅  450mg of CBD/CBN ($0.11 per mg)
✅  30 servings – $1.75 per serving
✅  Each serving contains 10mg of CBD, 5mg of CBN, plus 2.5mg of melatonin
Pros
Extra ingredients CBN and melatonin to help you relax
Free shipping on all orders
Versatile low potency (take one or two as needed)
Third-party tested for potency and residual solvents
Vegan-friendly
Cons
Products don't have third-party testing for pesticides or microbials
Difficult to find in-depth product information
Highlights
Oregon Originals' Sleep Gummies formula combines CBD with melatonin and CBN to help you sleep. CBN has gained quite a reputation for itself over the last few years as the "sleepy" cannabinoid and it's becoming more and more common to find sleep formulas that contain the CBN cannabinoid. 
These sleep gummies from Oregon Originals aren't new to me as I've tried them before with great success, so I was looking forward to seeing feedback from the other testers. 
I take two of these gummies and find that the effects settle in slowly and subtly in just under an hour. Don't expect them to knock you out as that's not how they work. Instead they just help you to relax into "bedtime mode", so they may be able to help you fall asleep faster. 
I also find that they help improve my sleep quality as I don't toss and turn and wake up in the middle of the night as often.
These gummies are also very gentle, so when I wake up in the morning I feel like I've had a good night's sleep with no hint of a sleep-aid hangover. 
These gummies also rated very well with our other three testers too, but they did also find that two gummies was better than one.
Buy Oregon Originals' Sleep Gummies here
3. Green Unicorn Farms Sleep Gummies
✅  750mg of CBD ($0.07 per mg)
✅  30 servings – $1.66 per serving
✅  Each serving contains 25mg of CBD
Pros
Most affordable gummy option (CBD cost per mg)
Versatile use (can also be used in the daytime at lower doses)
Great for those that want to avoid melatonin additives
Organic, all-natural ingredients, natural flavors and colors
Four delicious, fruity flavors in the same bag
Vegan-friendly
Award-winning
Cons
Third-party tested for potency only (not purity)
No extra ingredients to enhance the CBD
Highlights
These broad-spectrum CBD gummies from Green Unicorn Farms contain 25mg of CBD in each gummy, but they don't contain any other sedative additional ingredients that may help to boost the sedating effects of the CBD.
However, because these gummies contain a broad spectrum extract (as opposed to their full-spectrum CBD oils and smokable flower), they already contain a variety of other beneficial compounds, including minor cannabinoids and terpenes that help enhance the CBD's effectiveness. And unlike full-spectrum CBD products, these gummies can be consumed even if you are subject to drug testing as they contain zero THC.
I found this higher dose of CBD to be very effective in helping me stay asleep for longer periods of time, but I don't think they helped me fall asleep any quicker.
These gummies are more affordable than any of the others, if you look at the CBD price per mg, and they also come in a nice mix of flavors including watermelon, lemon, tangerine, and raspberry.
Our testing team noted that you could take these CBD gummies for anxiety and sleep as they don't have any extra ingredients in them to sedate you. This makes them more versatile than most other sleep gummies, which is useful if you're on a budget, as you can just buy one box of gummies to suit all of your CBD needs.
Note: I checked their third-party lab reports and this last batch of gummies actually tested at 37mg of CBD per gummy! No wonder I slept like a log.
Buy Green Unicorn's Sleep Gummies
4. MedTerra Deep Sleep Gummies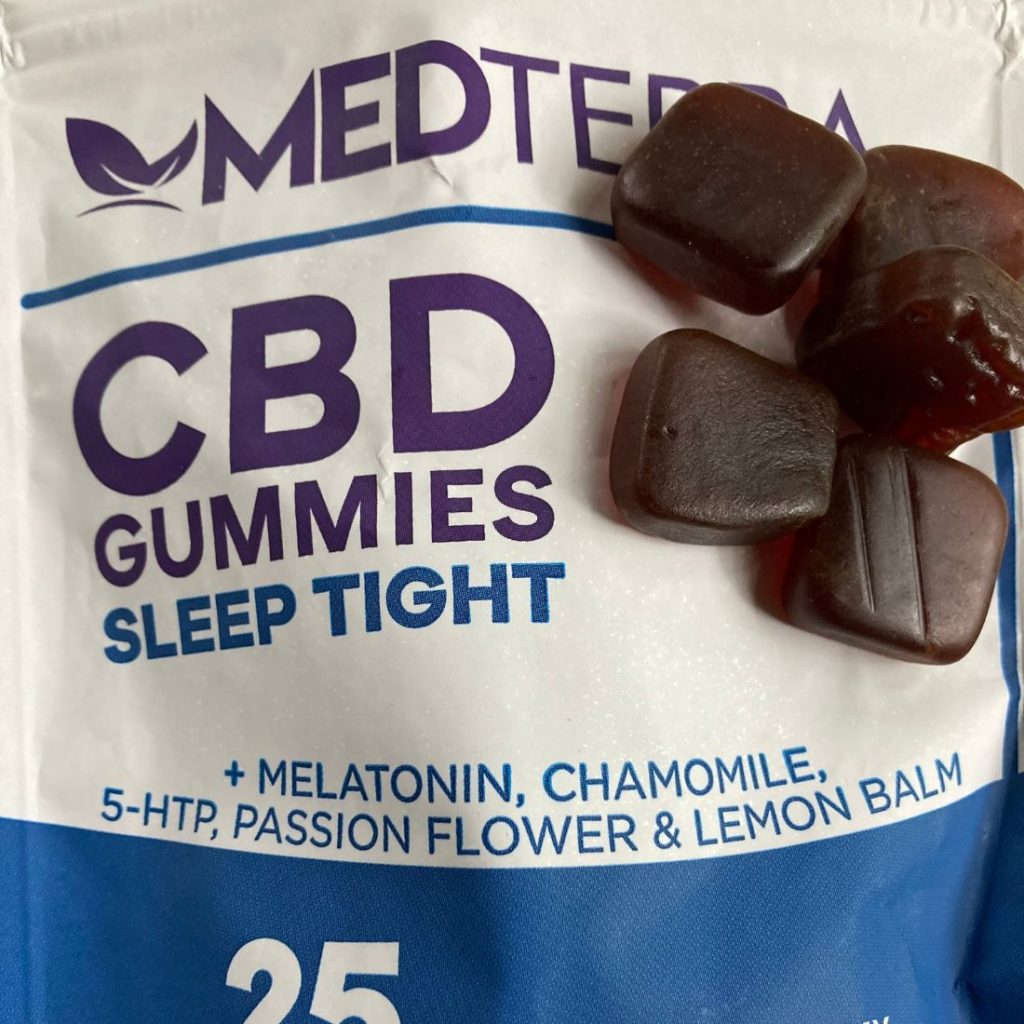 ✅  750mg of CBD and 60mg of THC ($0.08 per mg of CBD)
✅  30 servings – $2 per serving
✅  Each serving contains 25mg of CBD, 2mg of THC, and 3mg of melatonin
Pros
Full-spectrum CBD extract offers full entourage effect
Have a huge following of loyal customers
Great variety of sleep products available
All-natural and organic ingredients (no artificial flavors, colors, or sweeteners)
Comprehensive third-party testing for potency and purity 
Vegan-friendly
30-day money-back guarantee (easy returns)
Cons
Only one flavor option (strawberry)
Highlights
MedTerra's deep sleep gummies do exactly what they're designed to do, which is help you get a great night's sleep by helping you achieve more deep sleep. When I take these gummies I toss and turn less often and wake up feeling more rested than usual and this also has a major impact on my energy levels the next day.
All of their products are made with high-quality ingredients, which are also organic and all-natural wherever possible. Plus, they take third-party testing very seriously, offering some of the most comprehensive product testing I've seen for both potency and purity.
They are one of the more expensive options on this list, but if you set up a subscription you save a massive 30%, plus you get free shipping!
Buy MedTerra's Sleep Gummues
5. Arete Hemp Dream Gummies
✅ 1400mg of CBD/CBN ($0.03 per mg)
✅  20 servings – $2.25 per serving
✅  Each serving contains 50mg of CBD and 20mg of CBN
Pros
Highly potent and effective
Also contain CBN to help you relax
Lowest price per mg
Third-party lab tested for potency
High quality, organic ingredients
Vegan-friendly formula
Cons
Third-party testing is potency only (not purity)
Inexperienced users will need to cut them into pieces
Can leave you feeling quite groggy the next morning
Highlights
These gummies are highly potent and effective, making them ideal for heavier CBD users, as well as those needing severe symptom relief to help them sleep. I reviewed Arete Hemp just a few months ago and I was really impressed with their Dream gummies, so I was keen to see what the other testers thought of them (you can see my full Arete Hemp Review here).
These gummies are highly potent, making them ideal for heavier CBD users, as well as those displaying severe insomnia symptoms. They will also be the best option for you if you have trouble sleeping at night due to chronic pain issues, as stronger doses of cannabinoids are often needed to help relieve pain. 
Their high potency leads to more of a knockout effect than you get with most sleep gummies, which does also mean that they can lead to a bit of a hangover in the morning. They left me feeling a bit disoriented in the morning, so I used them on weekends when I could totally enjoy a nice sleep in.
It occurred to me that I could try taking half a gummy during the week, but splitting a gummy isn't the most accurate dosing method.
The three other testers also agreed with me on the effectiveness of these gummies and their resulting hangover. Overall, these gummies scored especially well in the sleep quality and sleep duration categories.
As expected, the price per gummy serving is higher than the other gummies on this list, but the per mg price is actually the lowest on this list, making them great value for money.
Buy Arete's Dream Gummies
6. Binoid Delta 8 Gummies
✅  500mg of Delta 8 THC ($0.07 per mg of THC)
✅  20 servings – $1.75 per serving
✅  Each serving contains 25mg of Delta 8 THC
Pros
Effective for deep and dreamless sleep
Competitive prices
Nice variety of flavors
Excellent customer service
Vegan-friendly
Binoid's D8 distillate is third-party tested for potency and purity
Cons
Noticeable psychoactive side effects
Noticeable weed hangover the next morning
Not legal in all 50 states (check cannabis and Delta 8 legality here)
Highlights
If you want to try THC gummies for sleep, then I recommend these Delta 8 THC gummies from Binoid. I fell in love with these gummies a few months ago when I reviewed the brand and product range (check out my Binoid review here).
Their gummies come in three different flavors including green apple candy, peach dream, and strawberry bliss, or you can get a mixed flavor pack to try all three. I always get the mixed pack and recommend you do the same so you can try them all!
Although not strictly marketed for sleep, these gummies will help you enter a deep, dreamless slumber. They're a great alternative to weed for sleep, for those of you that live in states where access to marijuana is restricted or illegal.
I have also used Binoid's Delta 9 gummies for sleep but I find the Delta 8 to be just as effective, plus they're more affordable.
All the testers agreed that the Delta 8 gummies worked really well in helping them relax – one tester even said they felt like they'd just had a massage, they were so relaxed! Binoid's delta 8 gummies also helped all the testers sleep more deeply. 
Two out of three of the volunteer testers reported a sleep aid hangover that made them feel a little out of it the next morning and I've noticed this too on occasion, but I find this is quite common with THC products in general. Nothing a cup of coffee doesn't fix.
Buy Binoid's Delta 8 Gummues
The testing process
Before I started taking CBD at night, I used to sleep pretty terribly, tossing and turning in the night and waking often. I now use CBD most nights to help me sleep better and, while I wouldn't say I sleep like a baby now, I do notice a massive improvement in my sleep quality when I take CBD against the times I don't.
Over the years, I've tested and reviewed countless CBD brands and probably thousands of products. Here are some of the things I look for, before recommending a brand to others.
Organic hemp grown in the USA (so that I know the CBD comes from a regulated, clean source)
Third-party lab results (third-party testing is essential, otherwise you just don't know what you're getting)
Good customer reviews (helps me assess the quality and potential efficacy of the product, as well as how reputable the company is overall)
Affordable prices (how affordable and accessible products are is also important to me)
By the time I was ready to test CBD gummies for sleep to find out which were the best, I had products from over 20 different brands.
I had a team of volunteers keen to test them so I distributed the products and feedback forms and eagerly awaited the response that was promised after a 20 to 30-day trial (some products only had 20 servings).
I asked my team of testers to score the gummies out of ten for the following statements, with one being "don't agree" and ten being "very much agree":
I felt more relaxed
I fell asleep faster
I slept more soundly (waking less often)
I slept for longer
I woke up feeling refreshed
I like the taste and texture of the gummies
I would recommend these gummies
Unfortunately, not all of the testers submitted feedback, so in cases of missing feedback, I averaged the other tester's scores. 
CBD for sleep: How does it work?
There are many potential ways that CBD can help you sleep better, because of the way CBD is able to influence our endocannabinoid system.
CBD enhances levels of endocannabinoids and adenosine in the brain, which can increase the amount of time spent in deep sleep
It's thought that the anti-anxiety properties of CBD can help you get to sleep faster and stay asleep longer by reducing stress, anxiety, and anxiety-induced REM sleep
The pain-relieving properties of CBD may help you get to sleep and stay asleep by decreasing pain levels
CBD may also be helpful in reducing symptoms of obstructive sleep apnea due to its anti-inflammatory properties
To learn more about how how CBD can help you sleep, including links to evidence-based research, check out my article "Does CBD help with sleep?".
CBD and melatonin for sleep
Some brands have started tailoring their products more towards sleep by producing CBD sleep gummies with melatonin, melatonin being another natural sleep aid that can help your body prepare for sleep.
If you've successfully used melatonin to help you sleep in the past, then you're going to love CBD melatonin gummies even more.
CBN for sleep
CBN is often referred to as the sleep cannabinoid, despite there not being too much scientific evidence to back it up. Scientists think that CBN may not directly influence sleep by itself, but instead enhance the sedative qualities of CBD, making them something of a dream team.
THC for sleep
Due to its intoxicating nature, THC has been more widely studied than any other cannabinoid. There have been numerous studies on using THC for sleep and countless studies have shown that combinations of THC and CBD can help improve sleep significantly.
However, be careful when it comes to THC dosing as, not only is it highly intoxicating, but the effects are dose dependant.
For example, low doses of THC have been found to have a mild sedative effect, improving the time it takes to fall asleep, decreasing REM sleep, and increasing total sleep time and deep sleep. High doses of THC, on the other hand, have been shown to reduce time spent in both REM and deep sleep, as well as increase the time it takes to fall asleep.
Note: In order to be classified as hemp-derived, a product should contain no more than 0.3% Delta 9 THC (of the dry weight). You can check the THC content of a product by looking at the third-party lab reports.
What are the benefits of taking sleep gummies?
When you find an effective CBD sleep gummy, it will help make you more drowsy at bedtime, helping you fall asleep more quickly than usual. Sleep gummies can also help improve your sleep quality by helping you sleep more soundly. Both of these factors can contribute to increasing your sleep duration.
The benefits of getting more sleep or better quality sleep are more important than most people realize. Once your sleep habits have improved, you can expect improvements to overall health, you'll wake up feeling more refreshed in the mornings, and improve your overall quality of life.
CBD sleep gummies that use high-quality ingredients are an excellent choice for improving overall sleep quality and decreasing stress levels without any common side effects that are associated with other sleep aids.      
What are CBD sleep gummies side effects?
CBD enjoys a remarkably favorable safety profile, with infrequent and mild side effects only. You can learn more about the side effects of CBD here, but some of the adverse effects that have been recorded include dry mouth, diarrhea, reduced appetite, and drowsiness.
How many CBD gummies should I take for sleep?
The number of CBD-infused gummies you should be taking depends entirely on the strength of the gummies in question and how often you take CBD. CBD newbies should start with just one 10-15mg gummy to see how it feels.
Then, if you don't notice any change in your sleep after a couple of nights, increase your dosage to 20-25mg.
What mg CBD gummies are best for sleep?
Different people respond to CBD in different ways and finding your ideal dose will also depend on factors such as your age, weight, and metabolism. Check out my article on CBD dosage here for a very rough guide to weight and potential dosage.
Does Delta 8 help you sleep?
Yes, THC is well known for making people sleepy and Delta 8 THC is no different. Although Delta 8 isn't as potent as Delta 9, it still works wonders for helping you relax and enter a deep (often dreamless) slumber.
Taking a Delta 8 THC gummy before bed can be a great alternative to weed for sleep, especially if you're looking to cut down on weed or live in a THC-free state.
How much Delta 8 should I take to sleep?
If you've never taken Delta 8, I would recommend starting with around 10-15mg at first so it doesn't overwhelm you. I have a fairly low tolerance for THC and find that one full 25mg gummy is perfect, but you may need more if you have a high tolerance to THC. 
Improve your health today by sleeping better
Introducing CBD to my nighttime routine has been a game changer for me. I wake less often, sleep more soundly, and have tons more energy in the daytime because of it. I can't tell you how often I used to fall asleep in front of my computer in the afternoons – not anymore!
So, if you're struggling to get a good night's sleep, I highly recommend you try one of the CBD sleep gummies I've recommended above. I've already done the research and found the best brands, products, and prices, so you don't have to.